Meet Hanisha G.
The founder of ek 2 three
Hanisha's dance journey began as a little girl in front of the TV, trying to mimic the dance moves from her favourite Bollywood songs. After years of learning various dance styles, performing at live shows and dancing alongside her full time job, she formed Ek 2 Three to create dances, performances and shows that portray the colour, sparkle and drama of Bollywood cinema.
Ek 2 Three's choreography is inspired by the glamorous heroines, eccentric heroes and melodramatic romance we see in Bollywood movies. Our mission: to create dances that are as entertaining as a Bollywood item number, punctuated with just the right amount of 'thumkas'*. Get in touch for all your dance-related needs.

*A thumka is a popular Bollywood dance move involving the movement of the hip from left to right. It's also Hanisha's favourite dance step.
Services
SPARKLING SANGEETS, DAZZLING DANCE EVENTS, WORKSHOPS & MORE
We direct, choreograph & manage sparkling, memorable shows for weddings, sangeets and special occasions, including the couple's first dance and the bride's solo. Get in touch for rates and packages.
We host fun large-sized classes, charity workshops, themed dance events and social mixers. Browse through our projects to see what we've been up to and what we can offer.
Celebrity shows, flash mobs, special events - we choreograph and perform at dance events that wow the crowd. Notable gigs include YouTuber Matt Steffanina and Bollywood celebrity Varun Dhawan.
Looking for a fun team building idea? Or want to celebrate a special occasion with your team? We provide entertaining Bollywood sessions that are sure to uplift everyone's mood!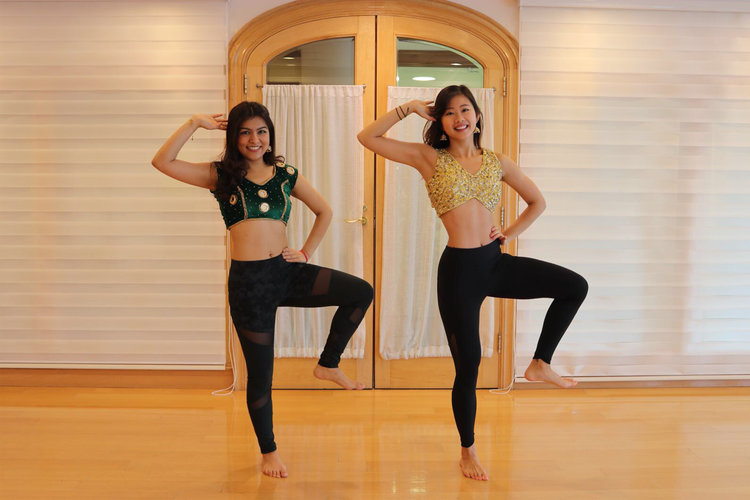 We offer one-on-one or smaller group classes for both adults and children where you can learn custom choreography and special skills. We focus on bringing out the Bollywood star within you.
Want to create and star in your own Bollywood music video? We direct, choreograph, film and produce super fun dance videos. Check out our work below.
Work
CHECK OUT SOME OF OUR EXCITING PROJECTS!
Get in touch!
For event, wedding or workshop inquiries, or even just to say hello,
please complete the form below. we'll get back to you asap.
JOIN US AT:
Bollywood with Hanisha
Thursday 2nd May
7.30-9.00pm
RSVP on our FB page.